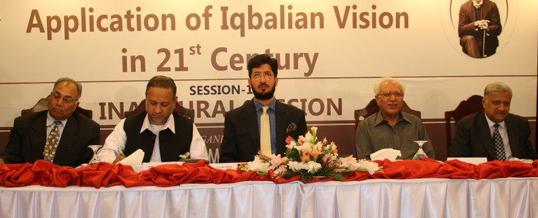 The research institute and think tank MUSLIM Institute has organized a two day conference "Application of Iqbalian Vision in 21st Century" in commemoration of Iqbal day on 6th and 7th November, Tuesday and Wednesday, here at the Islamabad Hotel.
On the first day, Addressing the conference, former Prime Minister of Azad Kashmir Sardar Ateeq Ahmed Khan said that Iqbal's thought has been interpreted in all ages to suit specific interests. To understand Iqbal's message in its true spirit, we must study and act upon it with an open mind. Iqbal's thought is in fact a Sufi thought , very similar to the thought presented by sufi saints like Sultan Bahoo which is in fact a lesson of religious harmony, tolerance and love. People in Germany are still proud today that a personality like Iqbal studied in their university. He added that Iqbal negated the Capitalist system and its exploitative thought, not capital itself. We must overcome this thought. Iqbal, having analyzed Eastern and Western civilizations, identified Islam as the only philosophy that can create a truly progressive society for the sustenance of humanity. He added that Iqbal's thought is centered on the personality of the Holy Prophet (PBUH) and that is what he declared to be the foundation of his philosophy. He demanded that Iqbal's thoughts should be taught at all academic levels, in schools, colleges and universities in the country.
Delivering the welcome address, the Chairman MUSLIM Institute Sahibzada Sultan Ahmed Ali expressed that the Institute is a research organization with the aim of ascertaining solutions to the problems faced by Pakistan and the Muslim world through analytic research. Shedding light on Iqbal's philosophy he said that the past two generations claimed that Iqbal was only for them, but I think that Iqbal is for me while these coming after me will claim him for themselves. Iqbal declared Asia as a singular body eighty years ago and declared Afghanistan as its heart. If the heart is troubled, the entire body will be troubled. This thought is fully subscribed to today and will find greater force of support in the future. Iqbal had predicted that there is no permanence in the Capitalist system and today we find evidence of that in the form of the Occupy Wall Street movement.
Eminent columnist Rana Abdul Baqi said that Iqbal is among founders of Pakistan. Today our social, economic, defense and religious policies are against the vision of founders of Pakistan.
Discussing the topic of Iqbal and the Islamic world, former Rector of Islamic University Professor Fateh Muhammad Malik said that Iqbal's thought reformed the dynastic system of the Arab world. The youth of today there is following the philosophy of Iqbal in rejecting Monarchial rule for spiritual democracy. The intellectual Al-Buti from Damascus University published a paper in 1973, the essence of which is being observed today. In this paper, he declares Iqbal to be his Murshid (spiritual master). With his prophetic vision regarding Palestine, Iqbal instructed the Muslims of the world to live together as brothers whether they are Arab or Turk. The practical manifestation of this message came about a few weeks ago when an event in Turkey was chaired by the President of Egypt, Muhammad Morsi. What is happening throughout the Arab world and the holy lands of Palestine are not being shown to us on the media. The democratic system that will come about from this struggle will be that envisioned by Iqbal.
Professor Dr. Riaz Ahmed said that Iqbal's religious philosophy and Sultan Bahoo's teachings have a very close relationship. Iqbal analysed the philosophy of the west and the entire Muslim world and explained how western thinks learnt from the traditions of the East, just as we are learning modern sciences from them today. Iqbal referred to the following verses of the Quran in his renowned lectures, which pertain to the universe and are closely related to human society. If the same methodology is adopted today, we can overcome the scourge of sectarianism. He said that the way of the Prophets (PBUT) was to convey their message through discourse and argumentation, whereas this method is rare in today's world.
MUSLIM Institute's Research Associate Adnan Haneef made a presentation on the international recognition enjoyed by Iqbal's philosophy and said that Iqbal's thoughts have been translated in over eleven languages. Besides explaining the academic literature produced regarding Iqbal, he also shed light on the recognition given to Iqbal from international scholars and philosophers.
Among representatives of all sections of society, the conference was attended by renowned analysts, professors and students of various universities, parliamentarians from the Provincial and National Assemblies, foreign diplomats, members of various research organizations and a large number of journalists and academics.