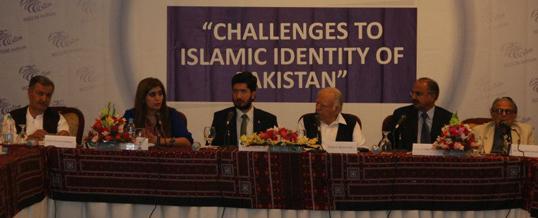 A seminar titled "Challenges to Islamic Identity of Pakistan" was organized in Islamabad on the afternoon of 16th July 2012 by MUSLIM Institute, an Islamabad based think tank.
Former Secretary General foreign affairs Akram Zaki analyzed "Making use of Pakistan's foreign policy initiatives in redressing the flawed perception of Islamic identity in the world". He said that unfortunately today we have fundamentalists and seculars and the real image of Quaid has been lost sight of. He spoke of foreign policy being a reflection of internal conditions of a country. He expressed the dimensions of Islamic thought along these lines. The Islam of the conquerors, inherited by the militants; the Islam of the Mullahs, which divides into sects and creates intolerance; and the Islam preached by the Sufis which connected and is followed by South Asian Muslims.
Sahibzada Sultan Ahmad Ali, Chairman MUSLIM Institute, spoke about the need to provide a clear concept of Islam to our youth. He stressed that the youth are politically and intellectually independent minded and do not suffer from an identity crisis. They are merely against the religious status quo which is the villain in Iqbal's story of Islam. We need to adhere to Quaid-i-Azam's principles of Unity, Faith and Discipline as a formulation for developing our Islamic identity. Ottoman Empire was divided into pieces due to preference of individual identities over Islamic identity. He further said that not having a knowledge or education-friendly society is one of the prime causes of our identity crisis. Islam has always flourished in a knowledge friendly society.
Former Ambassador Dr. Samiullah Koreshi spoke on the way forward for the stability and survival of Pakistan and its Islamic identity. He spoke on the need for a federation like Pakistan to maintain the unifying ideology at its foundation to keep it from falling apart. He said that Pakistan cannot survive on a geographic identity rather it can only survive and stabilize through its Islamic ideological identity. Ethnic identities are just for divisions as the Quran also mentions but the federation's identity should be ideological.
Ambassador Saleem Nawaz Gandapur addressed the question "Is Islamic identity a hindrance to internal development in Pakistan?" by analyzing the role of religious identity in developing a politico-economic system that is Muslim in more than just its name. He further argued that west is not a role model for the world just like U.S.S.R. There has been a collapse in the family system with the divorce rate being more than 60 percent. Allama Iqbal pointed out that Muslim societies are becoming western spiritually.
Lt. Gen. (R) Abdul Qayyum, renowned defense analyst, argued "why some international players want to de-Islamize Pak identity?" He criticized the western world for its double standards and hypocrisy in dealing with the Muslim world and highlighted the need to rid the image of Islam of its association with Militants. He further said that the concept of separation of Church and state is a main reason of pressure on Pakistan to be de-Islamized.
Addressing the seminar, renowned columnist and analyst Rana Abdul Baqi presented a paper on the topic "the 11th August speech of Quaid-i-Azam and the objective resolution: ideological continuity or contradiction?" He expressed how the objective resolution and ideology expressed in the early years of Pakistan was a continuity of the Pakistan movement and Quaid-i-Azam's ideology based on the foundations of the two nation theory. Quaid-i-Azam worked for Muslims of sub-continent and united them under Islam as a code of conduct. An Islamic state cares about the rights of minorities and their right of selection of religion and this fact was clearly delivered by Quaid in 11th August speech.
Dr. Maria Sultan D.G. SASSI presented the paper on "Role of Islam in Pakistan's strategic culture." She explored important points in the history of Pakistan in the development of its ideological identity. She discussed the role of Islam and Sufism in defining our culture and its need in securing a stable strategic culture in light of the needs of the people of Pakistan. Security decision making has not been influenced by religious parties. She further said that in Pakistan role of Islam is the only aspect of unity.
Tahir Mehmood, Program Coordinator of MUSLIM Institute, said that MUSLIM Institute, a research-oriented think-tank, aims to promote academic research and dialogue among Muslims towards addressing and resolving issues and concerns faced by Muslims not just in our country but around the world. He added that today's threat is to our ideological foundations through misinformation, confusion and false narration of history. He highlighted the current works by MUSLIM institute.
Research scholars from different universities and institutes, professors, media persons, foreign missions of different countries and intellectuals from different walks of life participated in the seminar.