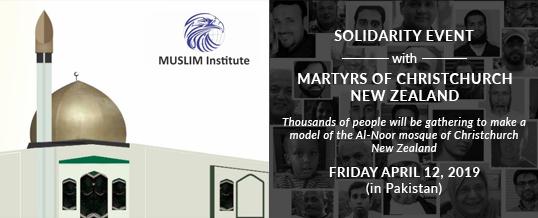 First symbolic 'human' mosque of the world will be shaped in order to show that mosques are places of peace. Sahibzada Sultan Ahmad Ali
For a long time now, MUSLIM Institute has been spreading the message of Islam in Pakistan and across the world through its research-based activities. In this respect, the Institute regularly conducts international conferences as well as seminars. Federal ministers, religious scholars, expert academics, ambassadors of different countries as well as international scholars actively participate in such programmes. MUSLIM Institute also publishes its research on different areas.
The tragedy of Al-Noor Mosque Christchurch, New Zealand on 15th March 2019 shocked the entire world. Not only Muslims, but the mosques – which are considered to be the symbol of peace – were targeted in the incident. Muslim worshippers who were present in the mosque to offer their Friday prayers were brutally martyred. Not just Muslims, but peaceful and friendly human beings from all religions wept the tears of blood. Hence, no words suffice the condemnation of this horrific incident. However, the way New Zealand's Prime Minister and the people of New Zealand came forward for the Muslims and Islam is surely commendable, says Sahibzada Sultan Ahmad Ali, the Chairman of MUSLIM Institute.
Sahibzada Sultan Ahmad Ali further said that while Muslims were suffering with the aftermath of the mass killing and the blasphemy of the mosque, the world realized that Islam is a religion of peace and Muslims are ambassadors of peace. Carrying forward this message, MUSLIM Institute has decided to pay homage to the martyrs and express solidarity with the victims as well as people of New Zealand by announcing to make the first 'human' mosque of the world in order to show that mosques are places of peace. Up until now, more than twenty thousand Pakistanis have shown their willingness to participate in this event and this number is growing continuously. In this respect, tomorrow on Friday 12th of April 2019, a symbolic mosque consisting of people will be made on 9AM at Darbar Hadrat Sultan Bahoo near Shorkot, Pakistan. More than twenty thousand Pakistanis will shape themselves as Al Noor mosque targeted in the incident.
Along with shaping themselves in the form of symbolic mosque, people will present the 'Darood' on Exalted Prophet SAWW in a unified manner. The people will also chant the message of mosque "Islam is Peace." In that respect, it will not be wrong to say that this will be the first time a mosque will announce its own message, which will be heard by whole world. On the occasion, MUSLIM Institute will also arrange 'Fatiha' for the martyrs of the Christchurch incident.
For the same purpose, we have also contacted the Prime Minister of New Zealand and are hopeful to receive a welcome message from her by evening today.
Thursday April 11, 2019
Multan